Sound Off! How Big of a Deal Should a First Birthday Party Be?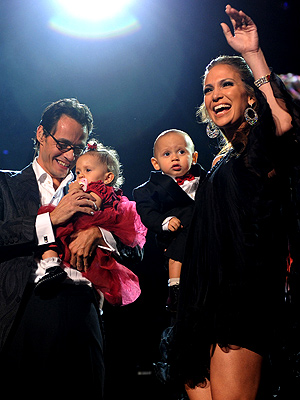 Kevin Mazur/WireImage
Turning 1 year old is quite the milestone, and everyone has their own way of celebrating. From small family gatherings to large kid-filled blowouts, it's up to the parents to decide how they'll commemorate the first anniversary of their child's birth. So how big of a deal should a first birthday party be?
Emme Maribel and Maximilian 'Max' David Muñiz celebrated their first birthdays with parents Jennifer Lopez and Marc Anthony over the weekend, with a party at the family's Bel Air home featuring cake and clowns. Scott and Renee Baio celebrated daughter Bailey DeLuca's first birthday with a '50s-themed bash — complete with a pink Cadillac cake! — at a local country club. And Nancy Grace's twins John David and Lucy Elizabeth turned 1 at a Manhattan early childhood development center surrounded by friends and family.
So here's your chance to Sound Off! How big of a deal do you think a first birthday party should be?