Nicole Sullivan Expecting Second Son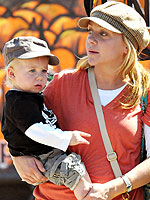 Fame
There's another baby boy on the way for Nicole Sullivan! The Rita Rocks star is "so excited" to be expecting her second son this summer, she tells Life & Style.
The new baby will join big brother Dashel 'Dash' Pierce, 21 months, and the pregnancy will be written into the Rita Rocks storyline, Nicole shares.
"I couldn't be more proud to be an actor working for such a wonderful group of women at Lifetime. They have been incredibly supportive, and we are looking forward to the viewers coming along for the ride with us."
Co-star Tisha Campbell-Martin is also currently expecting her second child. In addition to Rita Rocks, Nicole, 38, is also known for her roles on MADtv and The King of Queens.
Source: Life & Style