Kate Winslet Says Mia Not a Fan of Oscar Dress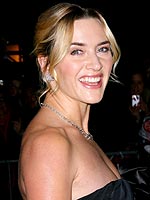 Splash News Online
As the odds on favorite to win Best Actress at Sunday's Academy Awards, Kate Winslet could have had dozens of dresses to choose from, but the 33-year-old mom of two says there was no choice to be made. Given the slumping economy, Kate tells Oprah Winfrey that such an indulgence would have been wasteful. "It's just not nice to have people make lots of dresses and you just wear one out of a possible five," she explained the day after her big win. "So Yves St. Laurent very kindly said, 'We'd like to make something for you,' and that was what we did."
While fashion insiders may have raved about the asymetric gray and black gown Kate donned, at least one person was unimpressed: Her 8-year-old daughter Mia Honey, whom she called backstage after accepting her award.
"I said, 'Hi, Mia, did you jump up and down?' [Mia] says: 'Yes, I did, Mum, I did. I need to talk to you about the dress — it was gray.' She was absolutely mortified I wore a gray dress."
Kate's hinted that while her career is going full steam ahead, we will be seeing less and less of her, so to speak!
"I have done quite a lot of nudity, and I feel like my kids — they're 8 and 5 now — maybe they're going to start to become aware of the amount of nudity I've done. I just sort of feel like I can't get away with it that much longer."
Mia is Kate's daughter with ex-husband Jim Threapleton; She is also mom to 5-year-old Joe Alfie, with husband Sam Mendes.
Source: Oprah.com