Toy Fair 2009: Fisher-Price Adds to Its Get Up, Get Smart and Get Going Line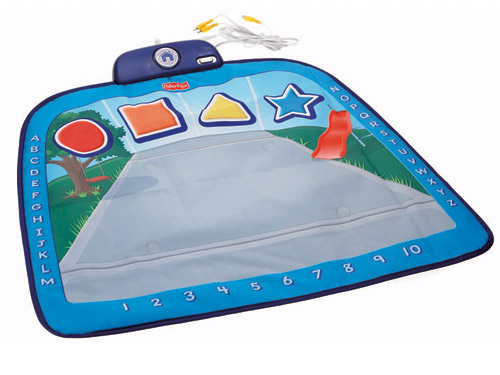 Fisher-Price Smart Fit Park
Fisher-Price's Get Up, Get Smart, and Get Going line encourages toddlers play actively when they play indoors. The introduction of two new products and an updated one in June will encourage kids to get off the floor and on their feet!
Smart Fit Park ($40) is a learning mat that plugs directly into your TV (no game system required!) that will get your kids walking, running, jumping and stomping as they interact. In the 18 games and races that incorporate letters, numbers, shapes and colors, kids can control the on-screen action – the faster they run, the faster their character will move on the screen; when they jump on the mat, the character on the screen jumps as well!
3-in-1 Smart Sports ($65) is a Wii-like wireless sports game that also connects directly to your TV. Kids can play a total of nine learning games incorporating the three attachments – a baseball bat, tennis racket and golf club.
The Smart Cycle Extreme ($100) is an update of last year's Smart Cycle. This version includes rumble-action and has a new look. Six new games ($25 each) with rumble-action will also be available – Pixar Cars, Toy Story, Hot Wheels, Sponge Bob, Bob the Builder and Planet Heroes.
— Danielle