Naomi Watts Says Sasha is 'Besotted' With Dad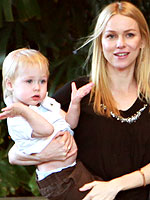 Fame
If the photos aren't enough to convince you, make no mistake: Alexander 'Sasha' Pete, 18 ½-months, is a daddy's boy! "Sasha is totally besotted with his father," actress Naomi Watts confirmed during a recent appearance on Jimmy Kimmel Live! "He calls out for him [at night]." Unfortunately for Sasha, devoted a dad as Liev Schreiber clearly is, expedience is not his strong suit!
"Liev is definitely hands-on and definitely gets up for Sasha…He's just not as quick. Men don't move as quickly. Unlike the mothers, who are like [snaps fingers]. They're right there before the first cry."
Sasha has been calling out for 'dada' more than ever since becoming a big brother to Samuel 'Sammy' Kai, 10 weeks. Seeing the new baby nurse every three hours has Sasha thinking that he, too, should be enjoying an overnight snack; When asked by host Jimmy Kimmel if she's nursing both boys, Naomi was quick to answer in the negative, however.
"Oh, [Sasha]'s got a full head of teeth now. So, oooh..no."
Naomi, 40, reveals that Sasha has displayed some jealousy of Sammy. "When we came home from the hospital he had a few reactions," she shared. To help combat any budding sibling rivalry, Naomi says that she and Liev try to stay "sensitive" to Sasha's feelings while "indulging" his needs "a little bit more." Fortunately for Sasha, it doesn't sound as though his fears are well-founded! "The love is equally divided," Naomi says. "There is just enough love to go 'round."
Naomi's new film The International is in theaters now.
Source: Jimmy Kimmel Live!