Maggie Gyllenhaal Brings Ramona to Work!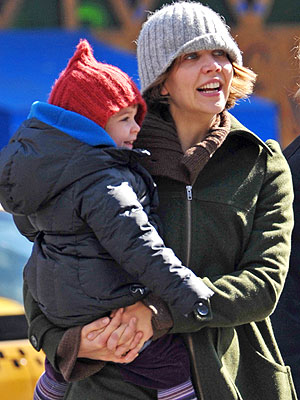 Splash News Online
It's bring your daughter to work day! Maggie Gyllenhaal totes 2-year-old Ramona on Saturday as she makes her way to the theater for that afternoon's performance of Chekhov's Uncle Vanya, which she's starring in with fiancé Peter Sarsgaard.
Although the pair try to split their parenting duties, Maggie admits that Ramona is currently in a mama's girl phase!
"In our case, maybe it's because I have a daughter, the mom is the mom. There is something about that. But we try. When we're together — if we've been away from her a lot — she just wants to be with me. That's kinda how she is at the moment."
Uncle Vanya runs through March 8th at the Classic Stage Company in New York City.