Deborah Cox Welcomes Daughter Kaila Michelle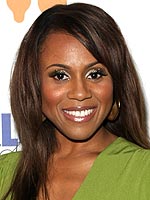 John Parra/WireImage
It's a girl for Deborah Cox! Daughter Kaila Michelle Stephens arrived at 11:55 a.m. this morning, Monday February 23rd, in Miami, Fla. She weighed in at 7 lbs., 7 oz, is 20 ½ inches long, and "is perfect," says Deborah.
This is the third child for the "Nobody's Supposed to Be Here" singer, 34, and her husband Lascelles Stephens. Kaila joins big brother Isaiah, 5 ½, and sister Sumayah, 2 ½.
The couple had announced the pregnancy in October. Deborah's latest album, The Promise, is out now.