Motherhood is the 'Most Profound Experience' for Toni Collette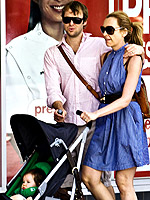 Fame
Many believe that motherhood is a life-changing event and actress Toni Collette would have to agree with that statement! Welcoming daughter Sage Florence last year was "the most profound experience of my life … I don't even know whether I can articulate that to you," she reveals in a new interview with The Advocate. It has been such an overwhelming experience for Toni that "I don't think anything I could say could actually really explain how it feels. Until you become a parent, there's no real understanding."
The United States of Tara star has been a hit in the gay community since her turn in Muriel's Wedding, and was asked by the magazine what her reaction would be if Sage, 13 months, came out when she was older. "I wouldn't care, as long as she's happy," Toni replied.
"Look, life is short, so why limit it? I accept people and their decisions no matter what they are. In fact, I think that's the biggest problem in the world: People want others to align themselves with their beliefs. If people were more accepting of differences, it would be a much more peaceful planet."
Toni's series The United States of Tara has been renewed for a second season on Showtime. Sage's father is Dave Galafassi.
Source: The Advocate; March issue