Ivanka Trump 'Stalking' New Nephew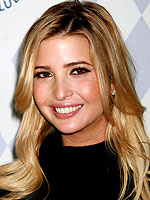 Robert Pitts/Landov
Pleased to be an "auntie" again, Ivanka Trump was raving about her new nephew Donald John III on Thursday, just one day after his birth. "The child is like — I'm sure everyone says this — but he is perfection, like he's literally perfect, healthy and strong and animated," the 27-year-old business executive tells US Weekly. "I went first thing in the morning and again in the evening, so I'm fully stalking them."
Ivanka's brother Donald Jr. and his wife Vanessa are also over the moon with their new arrival, who joins big sister Kai Madison, 21 months, at home. "[He's] the cutest baby boy you could possibly imagine," Ivanka adds. She's in no rush to add to the Trump brood, herself, however!
"That's why it's great being an aunt. Unless left alone with the child for extended periods of time, my responsibilities are quite easy. I can play until the baby ceases to be amused with me and then hand him back to his mom."
Donald and Vanessa, both 31, married in November 2005.
Source: US Weekly