Happy Birthday Max and Emme Muñiz!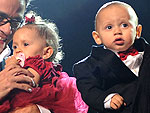 Kevin Mazur/WireImage
Happy Birthday Emme Maribel and Maximilian 'Max' David Muñiz! Jennifer Lopez and Marc Anthony's twin cuties are 1 year old today. Though we haven't seen much of Max and Emme in the past year, they did make a pre-birthday appearance last weekend, posing for the crowd at Marc's Madison Square Garden concert and again at their Bel-Air birthday party on Saturday. Introduced to the world on the cover of PEOPLE magazine, the twins were just one minute apart (Emme came first!). Though their names are all their own, the twins' middle names honor family members — Jennifer's father and Marc's sister.
Saying her "heart is connected" to her children, Jennifer shared that she "lives for" their smiles — and so do we! We hope to see more of these two in the year to come.