Emerson Drive's David Pichette Finally Understands Love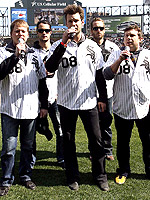 Frank Polich/Reuters/Landov
Love is a topic that is used over and over again in country music, but Emerson Drive's David Pichette never fully appreciated it until he met his wife Jill and they welcomed daughter Emma Victoria three months ago.
"Love, I think I can start understanding it now that I am 31," he explains. "I don't think I could've understood that when I was in my early 20s." Now that he is starting to get the concept of love thanks to his family it changes his outlook on everything. "My life out on the road and what I do — everything that I do — has a brand new meaning," says David.
"I feel where I'm at in my life, with the woman that I've found, everything is really — it's perfect. It's unbelievable. I found the best mother I could ever find for my baby, and at the same time the love that I have for this little one that is now 50 percent of me that's in that little girl, it gives a brand new outlook on your life and a brand new meaning."
The band's current single is Belong To You. Their next album, Believe, is set to be released on April 9th.
Source: GAC TV