Elizabeth Mitchell Solves Son's Temper Tantrums With Fresh Air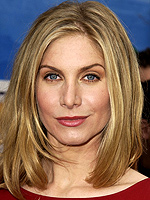 Steve Granitz/WireImage
Navigating the rocky road of toddlerhood can be difficult for any mom, but Elizabeth Mitchell has found a fail-safe way to keep 3-year-old Christopher 'CJ' Joseph happy — wide open spaces! "He has never had a tantrum outside," the 38-year-old Lost star tells the January issue of American Baby magazine. "He's 3, so he certainly has his fair share, but I find that once he's outside, he's really happy." Fortunately Elizabeth's Seattle-area home with husband Chris Soldevilla is situated on a one acre parcel of land, and the couple take advantage of every inch of space their yard has to offer! "We go out and walk…CJ plays in the stream and in the pond — any little kid can find a world of adventure," Elizabeth explains. "We have apple trees, and he likes to help me do some of the gardening, the cleanup, and the pruning."
Elizabeth reveals that she and Chris have different parenting styles: While she is better at keeping her patience and remembering that CJ is still a toddler, Chris gets props for his "unbelievably high energy" and ability to have fun with their son. "There are giggles that come from CJ when he is with Chris that I have just never heard," Elizabeth says. "They are the most beautiful things ever." Grandparents are also a big part of CJ's life, something Elizabeth says she wouldn't have any other way.
"CJ is a funny, interactive, sweet kid, and I feel that's because he has been exposed to so many different points of view."
Having a baby has been good for Elizabeth's career, in that it has expanded her creative horizons. Calling parents the "makers of magic," she feels that beyond the practical responsibilities of parenthood it is every mom and dad's duty to spark that creativity in their children. "Whether or not your child loves all these things, like singing and music, has a lot to do with the way you present them," Elizabeth says. That's why most mornings you'll find CJ engaged in the arts — in one form or another! "Kids need someone fresh — a babysitter, grandparents, whoever — to come in with fun ideas, and then your child's life is richer for it," Elizabeth explains. "Chris and I alternate mornings in charge."
"On my mornings, we get up and I have CJ draw a picture. He has his own little table and pad. And we always listen to music. Sometimes it's classical, sometimes it's jazz, sometimes it's rock — it just depends on what mood we're in. I like to tell him who the composer is, and then he walks around saying the name because he feels he knows something. He's like, 'This is Bach.' It's pretty neat."
Click below to read about Elizabeth's approach for handling night-waking.
Despite the rigorous shooting schedule of her hit television show, Elizabeth says she "cannot be someone who is not there at all hours." That means that if CJ wakes up in the middle of the night, he can count on company in his mom! "I am going to be there, and we are going to figure out how to go back to sleep," she says. What's more, her approach is paying dividends now. Reveals Elizabeth,
"For the first year, he just did not sleep, and now he sleeps like a rock. I think this is because I put so much time in with him back then. You stop worrying about dumb things, and you really just start doing the things that are most essential."
The insomnia she experienced has also — indirectly — provided Elizabeth with some laughs. She has kept an informal baby journal on her nightstand since CJ's birth, where she jots down his daily accomplishments, and some of the more humorous updates were written when she was working on very little sleep.  "Some of it is very flowery, which is not usually me: 'I love you like the moonbeams.' But I am reading it now and going, 'Wow.'"
Source: American Baby