Ana Ortiz Adds Coconut Water to Routine, Credits Rebecca Romijn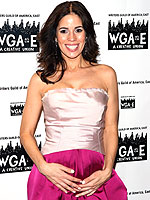 Theo Wargo/WireImage
For Ana Ortiz, being the last one across the finish line has never been more rewarding! Having already been promised hand-me-downs from her co-star Rebecca Romijn — who recently welcomed fraternal twins Dolly Rebecca Rose and Charlie Tamara Tulip — the 38-year-old actress says she is also soaking up all of the great pregnancy advice. In addition to a fabulous pillow, Ana has also been let in on Rebecca's secret love of coconut water. "Rebecca was like, coconut water, which is bizarre. I didn't know it had natural electrolytes in it. It's really good. She swears by that," says the mama-to-be.
Crediting the show's costume designer with making a pregnant woman still look glamorous, Ana admits that for her character, the orange jumpsuit may not flow with her onscreen style. "My character wears such hoochie, cha-cha clothes, so it's going to be interesting to see that sort of adjustment," she notes, adding that the plan is to reveal "more cleavage and more legs." Fortunately for Ana, however, her castmates — and crew — are always on hand to help her out! "Yesterday on set I actually did have to hide behind America [Ferrera] at one point. But luckily my character works in a salon so I can kind of stand behind the big Queen's hair and tease it up really high."
While the prop department are on their toes to cover her growing belly, Ana says that with her sweet tooth in full swing, the costume designers will soon be in full demand!
"For me I've always been a savory person, but now I'm just a total sweet tooth. If I see tiramisu, like I will knock you out of the way to get it. Since they're hiding it on the show, I'm trying to maintain some dignity about it. But it is fun. You do sort of have an excuse."
Ana is expecting her first child — a baby girl — in July with her husband Noah Lebenzon. Dolly and Charlie are Rebecca's daughters with her husband, actor Jerry O'Connell.
Source: OK!