oeuf's Mitten Sweater: Why Didn't We Think of That?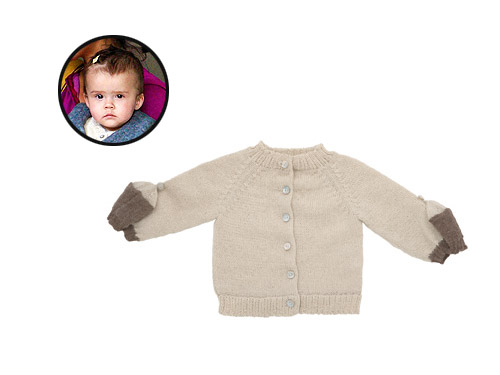 Inset: Flynet
Oh those innovative folks at oeuf! We've admired their animal masks and clip-on tails, Hug-Me sweater and Squeeze-Me mittens and now we're excited about never losing a mitten again with their Mitten sweater ($84-88) which has built-in mittens! Available in white/brown (which Jessica Alba's daughter Honor has been wearing), blue/brown and blossom/brown, the alpaca sweater is handknit in Bolivia, supporting a community and allowing their children to go to school instead of work, and is available in six months, 12 months and two years sizes.
Other fans of oeuf include Jennifer Garner, whose daughter Violet Affleck has been seen in their Nora pullover ($44-48) and Jenna Elfman whose son Story had the Lounger ($98).
— Danielle
CBB Deal: Save 20% on the Mitten sweater when you use coupon code HONOR (expires February 22, 2009).