Laila Ali Prepared to 'Earn My Stripes' in Parenthood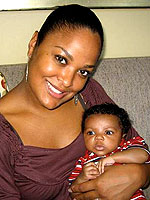 Courtesy Laila Ali
While pregnant with her first child, athlete Laila Ali was no exception to the rule: the countless tips, tricks, and tidbits of advice came pouring in from all around her, in hopes to prepare her for the big day. Included in the words of wisdom was none other than the popular warning of how much life changes after baby; For the new mom, her new responsibilities are "a good thing" and she wouldn't miss out on her new life for a minute. "I don't feel like I'm missing out on anything. This is my little sweetie pie. I can't wait to come home to him and his dad every day," she tells The Insider.
The helpful advice proved to have a certain ring of truth to it, says Laila, who has realized the value of sleep. Since welcoming her son, Curtis 'CJ' Muhammad Conway Jr., 6 months next week, Laila admits that the forewarning of sleep deprivation has certainly panned out! "You know, you hear you're going to lose a lot of sleep, but you can't really imagine it until it starts happening," she says. However, the 31-year-old, elbows deep in midnight feedings and diaper duty, refuses to put motherhood on a back burner. "There's nothing you can do about it. When the baby's up, you have to be up and that's just the way it is," explains Laila, adding,
"I'd much rather do it myself. I know there's options — all the night nurses and all that — but I don't want to take away the joy of parenthood. I'm going to…earn my stripes!"
Born into a famous family filled with professional athletes, there is little doubt that baby CJ will soon be following in his parents — and grandparents — footsteps. That said, according to his proud mama, who is confident her son will "be able to handle whatever he gets into because we're going to make sure he has the best training," he will hopefully steer clear of boxing. "I don't encourage anybody to box [and I'm] definitely not going to encourage my own son," shares Laila. The same can't be said for the proud papa, former NFL player Curtis Conway!
"If he decides to play football, that's fine. I'm not going to steer him in that direction, but I know his dad will! I love just seeing him tackling him on the bed, trying to get him ready for football already. Sometimes I say, 'Okay, baby, he's only 5 months,' but [CJ's] rough. He loves playing rough."
Find out who CJ is taking after and how close Laila is to her weightloss goal below!
Football isn't the only area where little CJ seems to be taking after his father. Although he is looking more and more like his dad, Laila laughs that some of her traits have managed to sneak in as well — as noted by her make-up artist! "My make-up artist says he's a 'Lailafied' version of Curtis. He's a sweetie, but he looks like dad," she says, adding that babies "change every day." The Ali's side of the family has no need to feel left out however, jokes Laila, who shares that her baby boy has certainly inherited — in addition to "skin tone, hair, and…certain faces that he makes" — the family's large attributes. "We always have a joke in my family about the size of our heads from my father," chuckles Laila.
Having almost reached her pre-pregnancy weight, the road to weightloss for Laila has been long and steady. "It takes nine months to put the weight on, so you just have to know it's going to take time to get it off, which I do," she shares, noting that she is "not crazy about it like some people are." With 10 more pounds to go until her goal, Laila admits that losing the weight has not been extremely difficult, likely a result of her consistent pregnancy workouts and healthy eating habits. "My body didn't get stretched out too much to the point where it looks like I had a child, so I'm very lucky," she explains.
Source: The Insider