Jennifer Meyer Maguire Snuggles With Her Sweetheart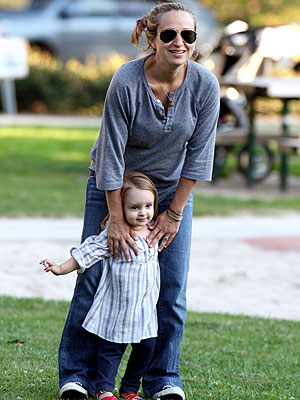 Pedro Andrade/Kevin Perkins/Pacific Coast News
Jennifer Meyer Maguire smiles while snuggling with daughter Ruby Sweetheart at Coldwater Canyon park in Beverly Hills on Thursday.
Expecting her second child this spring, Jennifer caressed her belly while watching Ruby scale the playground equipment. Maybe baby was kicking?
Jennifer, a jewelry designer, recently told E! News, that Ruby, 2, is "loving" the pregnancy. "She's really into the belly and it growing and her baby dolls."
Dad is actor Tobey Maguire. Who else is due this spring? We recently updated our Who's Due Next gallery – find out!
Ruby wears Salt Water Sandal by Hoy Shoes in red ($36).