Taylor Dayne Shares Her Surrogate Story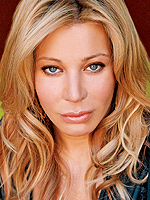 Stephen Danelian for PEOPLE for use on CBB
Despite the many obstacles standing in her way — most noticeably the lack of a partner — songstress Taylor Dayne was willing to overcome any challenge in order to fulfill her dream of becoming a mother.
Following several "relationships where nothing stuck," Taylor — not looking to "lose the window of opportunity" — had turned her attention toward adoption in hopes of starting a family; However, at the mention of a surrogate, the pop singer found herself headed down a new path that would eventually lead her to motherhood. "I said, 'A surrogate? What is that?' And they go, 'Rent a womb.' I'm like, 'Rent a womb?' And they're like, 'It's yours, they look like you," shares Taylor in a new interview with OK!.
Faced with the "mind-blowing" prospect of having a biological child, Taylor, who was performing on Broadway, was in an unusual situation after discovering the use of a surrogate was illegal in her state. Calling the ordeal a "real process," the bi-coastal mama-to-be split her time between the Big Apple and Los Angeles. For Taylor, the hectic schedule was well worth it when she discovered her surrogate was carrying twins!
"I had a surrogate carry it and it was my egg. I went for one, and I got two. She called me up and they told me. I'm very proud of the achievement."
Since welcoming her now 6 ½-year-old twins Astaria and Levi, life for the busy mama has been full of surprises. "They're precocious, alive, fantastic, thoughtful, and every day they're bringing home something new and different," gushes Taylor, who admits her children are "pretty divine." While their biological father, who will "remain a mystery," is not in their lives, — "they know who he is, but as an involved parent…he's not involved in that respect" — Taylor reveals that her children are simply thriving.
More on Astaria and Levi — along with Taylor's take on Rebecca Romijn's twins — below.
Completely supportive of Astaria and Levi, the 46-year-old shares that there are specific traits she is hopeful her children will acquire. "My biggest hope for them is to make sure they are happy, content, peaceful and satisfied, and successful people in this world. Give back and learn how to live fulfilling lives. I like knowing that in their hearts they feel safe, and yet they challenge themselves," she says. Much like many kids their age, Astaria and Levi are in to "hiphop, dance [and] skateboarding," however, Taylor admits that the career paths — including ones in showbiz — the twins choose to follow in life are up to them.
"I would follow their lead because for me, by this time in my life, at age 6, my destiny was mapped out for me. I was doing solos in school already, and I knew. There's inner dialogue that you have with yourself. I had my destiny, I knew what I wanted. You have to watch, and so if they desire it — and they show in it — I'm talking a real interest — sure, I would encourage it."
With no regrets of having embarked on the journey of motherhood flying solo, Taylor supports and understands fellow mamas of twins, including actors Rebecca Romijn and her husband Jerry O'Connell. Suggesting that the pair should anticipate the unique joys of twins, Taylor says the couple are "going to be just fine. There's a lot of love over there. Good nanny, little sleep and they have each other, so it's a beautiful thing."
Taylor — known for her hit songs including Tell It To My Heart and With Every Beat of My Heart — can be seen on CMT's Gone Country on Saturday at 8:00 p.m.
Source: OK!