Naomi Watts Says Liev Schreiber Contemplated Using a 'Man Boob'
She's praised him as a hands-on dad previously, and in a Wednesday appearance on The Ellen DeGeneres show actress Naomi Watts shared just how hands-on Liev Schreiber was — at one time — willing to be! At night when Naomi is breastfeeding the couple's 9 ½-week-old son Samuel 'Sammy' Kai, Liev is in charge of Sammy's big brother, 18 ½-month-old Alexander 'Sasha' Pete. The couple's first son has regressed since they welcomed their second, according to Naomi. "He know that every time that Sammy cries he's getting fed," she explained. "He's like 'Hey, what about me? Give me a bottle.'" That Sasha needs tending to is actually a step-up for Liev, who was frustrated after Sasha's birth when he had no role to play at night. A laughing Naomi revealed,
"He was like 'I want the man boob.' You can get those things…You can attach them and they feed through a tube, to create the bonding experience."
There was no laughter as Naomi shared that she's still getting very little sleep. "I'm feeding all through the night," she lamented. "He's still eating every three to four hours." The deprivation is taking a toll! "I'm really never grounded these days…I feel like I'm always five steps behind," she said. As for Sammy, Naomi revealed that the couple were plagued with indecision when it came to choosing a name. "We couldn't decide, we literally couldn't decide on the name until we got to the hospital," she shared. "Even three days after!"
"We liked both Samuel and Kai and we still couldn't decide if we wanted to go Kai Samuel or Samuel Kai. It's Samuel Kai now, and we call him Sammy. But that's a bit of a baby name so we'll probably [call him Samuel]."
Naomi's new film The International is in theaters now.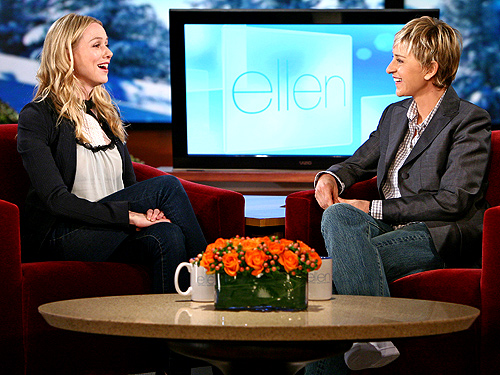 Courtesy Warner Bros for use on CBB
Source: The Ellen DeGeneres Show
Watch a video of the appearance in the extended post!