Mother of Four Brooke Burke Makes Time for Romance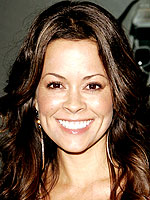 Landov
Some things are easier said than others and carving out 'me' time is at the top of the list for most moms. When you're Brooke Burke — mom of four — that goal can seem downright impossible. Still, the 37-year-old Dancing With the Stars season seven champ says she's bound and determined to buck the trend of putting everyone elses needs before her own in 2009.
To that end, she and fiancé David Charvet went on a date last weekend and while things didn't go quite as planned, they both enjoyed a much-needed break from the kids! "We hoped to grab a quick dinner and see a movie," she writes in a February 16 entry to her blog. "Every restaurant was fully booked, so we ended up at La Salsa, grabbed the food to go, and ate it during the movie."
"We both laughed at the ridiculous attempt for romance, but we had fun anyway…Motherhood has taught me to be flexible and open minded, even for a $12.00 dinner and a lousy movie."
Fortunately Brooke's load around the house got just a tiny bit lighter recently when her third child — 2-year-old Heaven Rain — started a twice-weekly preschool program. "She is so much more independent than my older girls were," Brooke observes. "It's amazing how different each of my children are." While she spent a month transitioning with Neriah, turning 9 next month, and Sierra Sky, 6 ½, Brooke writes that Rain has "embraced her toddler program with happiness and excitement."
As for the baby of the family — 11-month-old Shaya Braven — Brooke says that mobility is on the horizon. "Shaya is ready to walk any day." Each of the kids "seem to be growing up so fast," she writes, adding,
"My older girls are so busy with school and activities, and having two little ones keeps my home in constant chaos. Some days I feel like super Mom and other days, I am totally exhausted!"
Neriah and Sierra are Brooke's children from a previous marriage. Rain and Shaya are her children with David.
Source: Baboosh Baby