Kalencom Eleanor Design Diaper Bags: I'm Wild About These Designs!
Kalencom Eleanor Design Diaper Bag in Peacock
I'm wild about the gorgeous Eleanor Design Bags from Kalencom ($90). This stunning line, created by animal illustrator Eleanor Grosch, consists of 10 different designs with delicate animal appliques. Choose from a peacock, an egret on a chocolate brown background, an egret with a turquoise background, lion, panda, penguin, pheasant and toucan designs. The diaper bags, which come in either a messenger or flap style, are so gorgeous and functional that you'll be reaching for this bag long after your children are out of diapers.
The spacious bag has three pockets inside and two bottle/sippy cup pockets on the outside. It comes with an separate 3M Thinsulate insulated bottle/cup holder, a changing pad with a ribbon closure and a separate large zippered pouch. The interior of the bag is a bright color (great for finding  that pacifier in a hurry). The shoulder strap is thick and easily adjusted.  If you want to secure the Eleanor Design Bag to your stroller, pick up a pair of Kalencom's Stroller Straps ($5). They'll attach any diaper bag to your stroller.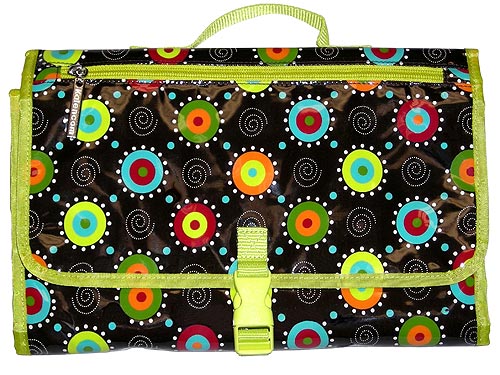 Kalencom Quick Change Kit
Kalencom also makes a fabulous Quick Change Kit ($24). I love this cute little take along kit — it unfolds to a good-sized changing pad with two fold-out pockets.  It comes with a clear baby wipes box and is ultra- convenient to stash in your stroller's basket.
Know what else is cool? Kalencom's diaper bags are environmentally friendly with no AZO and they don't use phthalates/DEHP, DBP or BOP in their PVC.
—Nancy