Racing, Not Family, on Jeff Gordon's Mind As the Engine Starts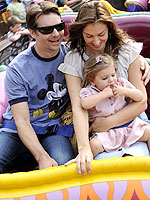 Garth Vaughan/Walt Disney World
In 2008, NASCAR driver Jeff Gordon finished the season winless for the first time since 1993, leaving some to wonder if fatherhood to daughter Ella Sofia may have lessened his edge! However, that couldn't be further from the truth, Jeff explains. "I might sound like a terrible father for saying this, but when I start the engine and put the helmet on, I'm not thinking a lot about family at that time," shares the 37-year-old. Still, he admits Ella, 19 ½ months, did play a small role in his performance — or lack of — last season.
"At Texas last spring, our worst race we had, we're like, 'Okay, she's sleeping through the night.' We'll bring her with us to the track, and she was up all night. I knew my car was not where I wanted it to be, and I knew Texas was a challenge to me already, and I had the worst day I could ever imagine because I didn't get any sleep."
To avoid having that situation occur again, Jeff has adjusted his sleeping patterns to closely match those of his daughter's. We'll have to wait and see if that makes a difference however — this season Jeff finished 12th in the first points race of the season.
Jeff, 37, is married to model Ingrid Vandebosch.
Source: MSNBC