Naomi Watts Zeroes in on Sasha and Sammy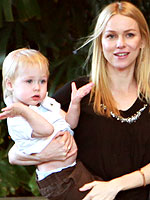 Fame
In her new film The International actress Naomi Watts, 40, portrays a mother and prosecutor caught up in a world of intrigue and danger as she works to bring a corrupt bank to justice. At least one aspect of the role was familiar territory! Mom to Alexander 'Sasha' Pete, 18 ½-months, and Samuel 'Sammy' Kai, 9-weeks, Naomi says that the "constant struggle" and "balancing act" of working motherhood is something she hopes film-goers will identify with, as well. "I feel like I'm spreading myself thin in both arenas," she admits.
"Usually, I'm so there for my work and there is nothing that will get in the way of it, I'm just 100% there. But now, with my children, I mean if they're in the room, it's like nothing else exists."
The International is actually the first film Naomi made after welcoming Sasha, and the shoot was challenging as a result. "It felt impossible because I knew the scope of the film," she explains. "I knew there was shooting in several countries." Director Tom Tykwer went out of his way to accommodate the new mom, however, ultimately condensing the overseas shoot into five-weeks. "And that's when I said, 'OK, maybe I can do this,'" Naomi says.
"We had spent two months in Lithuania shooting … well, Liev was shooting, so we were there on his set and then we all moved to Berlin and shot there. So the family was able to stay together, so that was good."
Sasha and Sammy are Naomi's children with fiancé Liev Schreiber. The International is in theaters now.
Source: LA Times