Isla Fisher Feels Nostalgic Over Pregnancy Photos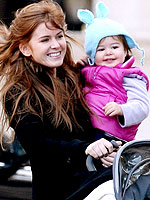 Jae Donnelly/INF
Most moms look back at photographs of their pregnant bodies and cringe, if ever so slightly, when they realize how much of their weight gain went to areas other than the baby. Actress Isla Fisher— who says she's "embarrassed" by her normally small stature — is no exception, though since shedding the weight she gained with daughter Olive she's happy to have those photographs all the same.
"I didn't feel self-conscious about my body until I had a baby, and now I think, 'Thank God there's a photograph of my thighs when they looked like that.'"
Unlike her character in Confessions of a Shopaholic, Isla, 33, says she has no inner fashionista she could turn to for creative inspiration. "I've got an Abba t-shirt that I've had since I was 8," she tells Page Six magazine. "I also have a few pieces from Target from when I was pregnant that I still wear all the time." Shooting the film so soon after Olive's birth presented a few logistical challenges, in addition to the artistic ones. "I never work out," she said. "I just don't enjoy it…I gained 60 pounds during my pregnancy, so [producer] Jerry Bruckheimer hired me a trainer." Although the results were admirable, Isla says it was unpleasant — for all involved!
"The trainer said I had a bad attitude. He told me I was genetically blessed because I'm little, but he did warn me that it was gonna catch up with me."
Olive, 16 months, is Isla's daughter with fiancé Sacha Baron Cohen.
Confessions of a Shopaholic is in theaters now.
Source: Page Six