Honor Warren's Got Her Eye on You!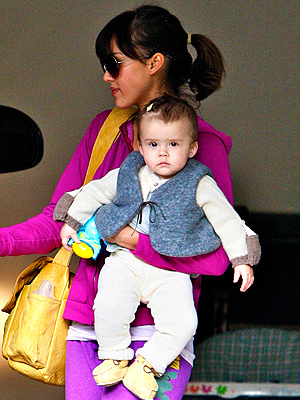 Flynet
Spotted! Honor Marie Warren kept a close eye on the photographers snapping her picture as she left a friend's home with mom Jessica Alba on Tuesday in Beverly Hills.
Eight-month-old Honor is the first child for Jessica, 27, and her husband, producer Cash Warren. Jessica recently described the "horrible" workouts she did — and then stopped — after Honor arrived last June:
"I don't have a six-pack — that's just not my body at all. I'm not completely back to where I was. It's not the same, but it's not that serious. I'd rather spend an evening with my baby and give her a bath and read her stories and watch her roll around than go work out in a gym."
See more images of Honor in our Alba-Warren Family Photo Album!
Honor is wearing oeuf's alpaca Mitten sweater ($84-88, save 20% with code HONOR through 2/22/09) which has built in mittens!
On top, she wears a Maike Wool Fleece Vest in Gray ($88).
Jessica carries Jamah's The Nanny in Daisy ($695). Check out our review of the diaper bag!