Angelina Jolie and Her Big Apple Babies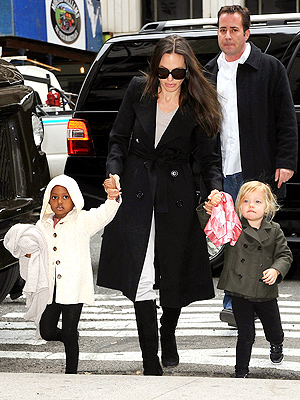 Humberto Carreno/Startraks
Blankies in hand, Zahara Marley, 4 and Shiloh Nouvel, 2 ½, follow mom Angelina Jolie's lead on Wednesday morning in New York. The trio were on their way to browse Lee's Art Shop.
Angelina was spotted out and about in NYC yesterday, checking out apartments both uptown and downtown before heading to a wardrobe shop. Seems they'll be here for awhile — the family recently signed a lease on a Long Island mansion, where they will be staying while Angelina films her latest movie, Salt.
Both Angelina and dad Brad Pitt are nominated for Oscars at this Sunday's Academy Awards — check them out in our latest gallery, And The Winner Is…Mom!
Shiloh carries a Pink Polka Dot Baby Lovie by SwaddleDesigns ($16).
She wears Adidas Campus Velcro sneakers ($40).
Another photo of them leaving the store is below.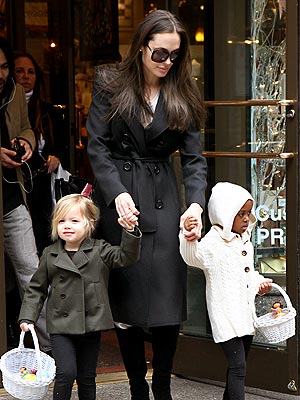 Splash News Online