Taraji P. Henson: 'Once a Mom, Always a Mom'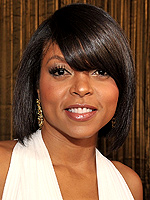 Lester Cohen/WireImage
For The Curious Case of Benjamin Button star Taraji P. Henson, who portrays Brad Pitt's mom in the critically-acclaimed film, the role was an easy one to slip into. As mom to 14-year-old Marcel in "real life," the 38-year-old actress feels that "once a mom, always a mom." What's more, Taraji says that she has a hard time turning off those maternal instincts — even when her son isn't in the picture.
"I try to mother my friends. It's like riding a bike: You never forget how to be a mom."
In typical mom fashion, Taraji boasts that Marcel gets a home-cooked breakfast each and every morning. "I don't buy cereal," she explains. "Sometimes he wants scrambled eggs, sometimes he'll have bacon, or pancakes." The nature of her job as an actress can sometimes threaten Marcel's need for a hot breakfast…but Taraji has found a way around it!
"Even if I have a 5 a.m. call, I'll cook and leave his food in the microwave before I leave. You expect a child to succeed and do well in school, but how are they going to do that if they have no brain food?"
Marcel is Taraji's son with ex-boyfriend William Lamar Johnson, who died in 2004.
Source: USA Today