Lisa Kudrow Says Son is a Performer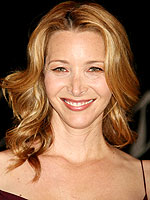 Robert Pitts /Landov
From the sound of things, 10½-year-old Julian Murray Stern has caught the acting bug from mom Lisa Kudrow. In a new interview with Movies.ie, the 45-year-old Friends star says that her son thinks that a career in entertainment "would be fun." So much so, for her latest movie — Hotel for Dogs, in theaters now — Lisa says Julian was even willing to help mom learn her lines! "He was really good," she reveals.
"School offers opportunities for him to be in plays and he is a performer. There's no doubt, whether it's acting, music, stand-up comedy or talk shows. He loves it. Every school production he is involved in he stands out and he doesn't do it on purpose. He just gets into this performance zone and he goes."
Some dreams die hard, however. "But, he wants to own a shopping mall, so that could be his occupation," Lisa adds.
Julian is her son with husband Michel Stern, a French businessman.
Source: Movies.ie