Kelly Rutherford: We 'Keep It Together' For the Kids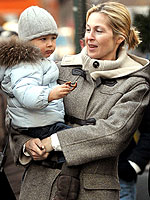 Splash News Online
Ready to put their past behind them and focus on their children, Kelly Rutherford and German businessman Daniel Giersch are recovering from the difficult January custody case and are looking forward to the birth of their second child — a girl —  in June, the actress reveals to Us Weekly. Describing the ordeal as a "challenge," Kelly notes that the media attention does little to remedy the situation at hand. "When [the battle] is in the public, it's really hard," she says.
Granted permission by the judge to take the ex-couple's 2-year-old son Hermès Gustaf Daniel to New York City for the duration of her show's filming, the 40-year-old Gossip Girl star is hopeful she and Daniel — for the sake of their kids — will manage to overcome any hard feelings. "When you have kids, you have to keep it together somehow," says Kelly, adding,
"People say things they don't mean because they're upset. So I'm hoping we can work it out. We have kids together. We have a beautiful son together. I think we're both decent people."
According to the proud mama, who considers herself "very blessed," it seems that the pair have already began to put their differences aside as they browse the books for a moniker for their daughter. As the actress reveals the two have "talked about a name we both like," she shares that pregnancy the second time around, although progressing smoothly, has taken its toll. "I mean, it's different at 40, with the 2-year-old running around," she explains. However, Hermès does occasionally settle down for some quiet time with his mommy, taking special time to bond with the baby.
"[Hermès] rubs the belly. He listens in there when she's kicking. He's very sweet."
Source: Us Weekly