Kate Moss Blames Weight Gain for Persistent Pregnancy Rumors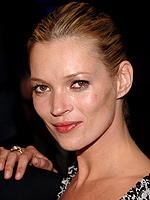 Andrew H. Walker/Getty Images
If there was ever a downside to being Kate Moss, it might be this! Following weeks of speculation by the British tabloid media the 35-year-old supermodel — famous for her waifish figure — has gone on record to deny that she's pregnant with her second child. Instead, Kate tells New York magazine, she merely gained some weight!
Proudly proclaiming herself "a woman" because she's finally in need of a bra, Kate adds that even her own inner circle has wondered whether or not she was expecting a baby.
"It's so awful, even my friends are phoning me up and saying 'Are you pregnant?' And I'm like, 'No! I just put on a couple of pounds, and they went in the right place.'"
Kate is already mom to Lila Grace, 6, her daughter with ex-partner Jefferson Hack.
Source: New York