Julia Roberts Is The 'Luckiest Girl in Town'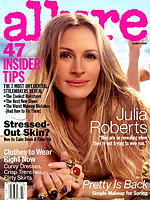 Courtesy Allure
In the March issue of Allure magazine Julia Roberts reveals that the key to beauty is "always to be looking at someone who loves you;" It that's true, it's no wonder the 41-year-old stay-at-home mom to 20-month-old Henry Daniel and 4-year-old twins Hazel Patricia and Phinnaeus 'Finn' Walter is known as one of the most beautiful women in the world! "I'm the luckiest girl in town, I really am," she admits.
When it comes to teaching their three children the virtues of love and compassion, however, the Pretty Woman star says that she and husband Danny Moder set the tone — with each other. "One of my favorite things about my children right now, even Henry, who can't say all the words…sometimes he'll see me and go, 'Ma-ma!' and throw himself on me….Or Finn says he likes my earrings….Or Hazel will say, 'You look pretty, Mama,' first thing in the morning," she says. "And I realize, that's all my husband."
"They're seeing the things that he does and the way that he shares his feelings with me, and the way that I share my feelings with him. The coolest thing you can do for your children is to love each other in their presence."
Taking time off from her career to focus all her efforts on the children is something many moms can relate to, and Julia says that she — in turn — can now relate to the monotony that sometimes befalls stay-at-home moms. "A lot of the mom struggle in life is that everything happens within the four walls of the home, and it can lose its luster a little bit, maybe," she says, having taken two years off after welcoming the twins. "You just have to bring it in from the outside sometimes." One way Julia confesses she'd love to do just that is with a much sought-after playdate with Malia and Sasha Obama! "The girls can play with my kids," she jokes.
All that time spent in close quarters with three small children has made Julia a triage nurse, of sorts. "We get a lot of splinters in our house," she admits. When the time comes to undo what has been done, Julia's approach can best be surmised as "distraction and extraction."
"A splinter is just a good light, a pair of tweezers and a lot of singing songs and passing the time: La-la-la, now listen, if you eat all of your dinner…"
Julia says that she and Danny often find themselves wondering how they ever filled the hours before they became parents. "'What did we do with all the time we must have had?'" she asks. "Because you don't recognize it as such, until you have all these little … time thieves running around your house." She adds,
"I will never be bored again."
Julia's new film Duplicity opens March 20th.
Source: Allure