Daughter's Birth Gave Brian Bannister a 'Higher Purpose'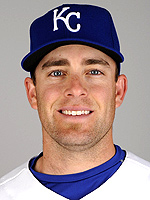 Jon Hayt/MLB Photos/Getty Images
Kansas City Royals Brian Bannister was spending his time focusing on this past season — the worst year of his professional career — until he and wife Megan — following a difficult pregnancy — welcomed daughter Brynn four months ago. Instantly, his outlook on life and what's important to him changed. "There are only a couple of moments in your life when you know your life has changed. This is one of them. It gives you a higher purpose," notes the 27-year-old.
"Because of my daughter, I didn't think about baseball one time in this offseason. You're up every three hours with her, 24 hours a day. The only statistic I kept track of was how many diapers I changed … It was running about seven or eight per day."
Brian began his professional baseball year in 2006 when he was drafted by the New York Mets. The following year he was traded to the Royals, whom he recently signed a one-year contract with.
Source: Kansas City