Kristin Scott Thomas on Working Motherhood: It Was Bloody Hard Work!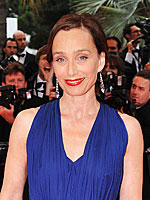 Pascal Le Segretain/Getty
While some working moms feel that they really can "have it all," don't count Kristin Scott Thomas among them. The 48-year-old actress "would have liked lots and lots of children" but says her career wouldn't allow for it. "You really do have to choose," she tells Psychologies magazine. "People would say to me at the time, you're the woman who has everything but it was bloody hard work."
"I have nothing but admiration for people who manage to have four or five children and a semblance of a job. It's amazing how people can do that."
When asked whether she ever felt guilt as a working mom, Kristin — mom to Hannah, 20, Joseph,17, and George, 8 — replies "would you like to show me a working mother who doesn't?" According to the English Patient star "there's no escaping it" — and it is something she struggles with to this day. The "worst time" of all, Kristin says, is when children enter their adolescence "because they start to express how they feel."
"They say, 'I don't want you to go. Why are you always going?' When they're little they kind of take it on the chin but I found it very difficult leaving them in their early teens."
Click below to read Kristin's thoughts on grown-up children.
Of course, eventually it is the children themselves who say goodbye; Kristin recently encountered such a scenario when dropping her daughter off at college for the first time. "I drove her all the way from Paris to London, and as soon as I reached Land's End I just wept," she shares. "It's the most awful thing accepting your child is grown up now."
"It was really funny because I dropped her off and drove round the corner, and there were cars and cars of couples, the mother sitting there with her head in her hands. That's what happens at freshers week. Nobody tells you, but I'm telling you now."
While Hannah studies to become a journalist Kristin still has plenty to keep her busy at home. "My two boys are getting along fine," she says. "They're obviously a lot younger and still need a lot of mothering." It's something she is eager to provide, both for their sake — and her own. Adds Kristin,
"Once you have children you suddenly have an insight. It gives you a lot of clues. Motherhood changes you so much. I was unbearably shy until I started having children. I think having them is just the most incredibly empowering, invigorating and confidence-giving experience."
Hannah, Joseph and George are Kristin's children with ex-husband François Olivennes.
Source: Psychologies