Isla Fisher Shares Her Slimming Secret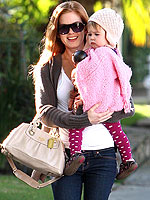 Flynet
Only a few short months after welcoming her first child, daughter Olive, actress Isla Fisher was ready to return to the big screen as the leading lady in her new movie Confessions of a Shopaholic. However, before the 33-year-old could slip into the ostentatious outfits worn by her character, Isla needed to shed the approximately 60 pounds she had put on during her pregnancy.
While Isla admits that the movie's director hired a personal trainer in an effort to help her along in her weightloss journey, the Australian native — who "just tried my best" — believes that the majority of the pounds came off as a result of her breastfeeding. Although Isla managed to regain her figure in four short months, the dramatic change is certainly not a result of any lack of eating on the actresses part! "I'm still hungry. I'll look at the dessert menu. I eat dessert. I'm terrible," says Isla, only after cleaning her plate of her lobster salad and bread during an interview with USA Today.
She makes no apologies for her newfound passion of food, sharing that she is "still breastfeeding." In fact, according to Isla, she may need to keep up the hearty appetite for quite some time! "I'm only going to stop when [Olive] goes to university," the actress jokes.
Amazed by the results of nursing, Isla has no qualms with sharing her slimming secret with other people — both men and women — struggling to lose those pesky pounds.
"So to all those men out there, if you want to lose weight, get breastfeeding!"
Olive, 16 months, is Isla's daughter with her fiancé, actor Sacha Baron Cohen. Confessions of a Shopaholic is in theaters now.