Erinn Hayes Credits Chemistry for Second Pregnancy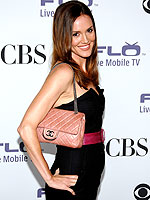 Jean-Paul Aussenard/WireImage
Worst Week's Erinn Hayes knew that she and husband Jack Hayes wanted a sibling for 1 ½-year-old daughter Maggie, but she didn't want to cause a problem for her bosses. When Erinn learned that her character Melanie Clayton would start the series newly pregnant, the actress decided that the timing was right — "here we are presented with this opportunity that we don't have to hide it on TV" — and decided to get pregnant herself. Erinn and Jack immediately starting trying for a baby and is happy to say that "everything worked out perfectly." The couple is now expecting their second child this May.
"It's such a weird thing to try to plan a baby around a TV season. There's a three-month or four-month window in the summertime to have a baby and hang out with it a little bit before hopefully going back to work, so we were just very lucky. I guess chemistry was on our side."
While the couple planned to have a second baby, they are not planning on finding out the sex and are shooting for a delivery surprise. "We waited with my daughter and we're gonna wait with this one," shares the 32-year old. "There are so few good surprises in life." Even though she is not planning on learning what she's having, Erinn believes that it is a little boy. "Although, with my daughter, I was so convinced that she was gonna be a boy that I was so surprised when she came out a girl. This one I really feel like it's gonna be a boy, so it's probably gonna be a girl, but we'll see."
"Last pregnancy, I tried [the old wives' tales tricks]. If you hold a ring over your belly and it spins one way [it tells you the gender], and it kept consistently spinning the boy way. Now, I don't believe in any of that stuff."
Worst Week airs Mondays at 9:30 p.m. on CBS.
Source: TV Guide