Clive Owen Says Daughters 'Hit Him Up' To Call Co-Stars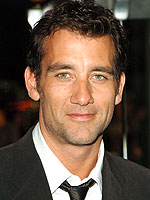 Jon Furniss/WireImage
Now that Clive Owen's daughters — Hannah, 12, and Eve, 9 — are beginning to appreciate the nature of dad's career, they're ready to take full advantage! In a new interview with USA Today, the 44-year-old actor reveals that the girls are big fans of Friends and, by extension, Clive's former Derailed co-star Jennifer Aniston. "[Hannah]'s like, 'Call her up, call her up,'" Clive reveals "I'm not calling her up. What are you going to say to her? They hit me up for weird things like that." The girls also give their dad "serious grief about doing a children's movie," he says, and they enjoy the glitz and glamour of a premiere — even though they're always forced to make a hasty exit!
"They come to every film. They meet everybody. But they're not allowed to see the film. Most films I do are not appropriate. When they turn 18, they can watch Closer."
Now that his next two films, The International and Duplicity, are about to hit theaters Clive is looking forward to some well-earned family time, which includes wife Sarah-Jane Fenton. "We used to take the family on holidays and adventures, but more and more, I want to go home and stay at home," Clive explains. "I love getting up in the morning and taking them to school and picking them up and hanging with them."
"In the last year or two, if I go away for a certain amount of time to make a film, I make sure I have down time at home to keep the balance right."
The International is in theaters now; Duplicity is in theaters in March 20th.
Source: USA Today