Charlotte Church Amazed By Newborn Son Dexter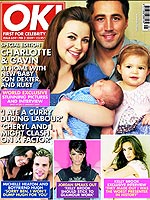 Courtesy OK! UK
Thanking everything from 24 to curry takeout, Charlotte Church introduced her new son Dexter Lloyd, 5 weeks, in the February 3rd issue of OK! UK — and raved about life as a mom of two. "I was a bit of a pain in the ass in the last few months," she admits. "I was so uncomfortable, I just completely lost sight of how amazing it is when you have a newborn and how precious they are." Also getting high marks from Charlotte? Partner Gavin Henson, who had a soothing affect on the 22-year-old songstress during labor and delivery. "The midwife couldn't believe how calm Gavin was," Charlotte recalled. "He talked me through it." Gavin — for his part — was quick to downplay his role.
"She was in so much pain. It's frustrating because you'd like to take that pain away if you could, but you can't do anything. So I was just trying to encourage her."
As she did with 16-month-old Ruby Megan, Charlotte was hoping to deliver at home. Around 5 p.m. on January 10th, contractions were coming "quite regularly" but the couple were unsure if they were true, having suffered through several bouts of false labor in the weeks leading up to that moment. "I didn't want to tell anyone in case it was a false alarm again, so we ordered Indian [takeout]," she said. The curry apparently did the trick! Just after midnight on January 11th, Charlotte was able to accomplish her goal of an unmedicated, midwife-assisted home birth; Unlike many women, however, she said that delivering a subsequent child was more painful than a first.
"Dexter was in an awkward position in my pelvis, he was all up close to my back. The contractions were really strong for a long time. I was shouting for [pain relief] but by the time they got it ready I was ready to push."
Further complicating matters, Dexter was facing the wrong way — though in the final 15 minutes of labor he managed to turn on his own. "He had an indentation on his head, because of the way he was laying and babies' skulls are so soft," Charlotte explained. "That took a few days to go down."
Click below to read how Ruby is adjusting to life with a baby brother.
The painful delivery was preceded by a painful pregnancy, which saw Charlotte besieged by hip problems. The condition deteriorated as her due date neared, but the Kiefer Sutherland-led FOX series saved the day — on more than one occasion! "For the last six weeks, every day I was like: 'Please let it be today!' What got us through … was 24!" Charlotte explained. "We watched about six hours a night, waiting and waiting for this baby — we got through the whole six series so thank God for 24." Added Gavin, "thank God for Jack Bauer!"
The couple knew that baby-on-the-way was a boy, as well as that Megan was a girl, but both times managed to keep their happy news a secret. "We didn't even tell our family," Charlotte says. "It was really nice that it was just between the two of us." After the midwives "cleaned up the battlefield" Gavin's parents arrived with Ruby, and the newfound family of four settled in for the night. With Gavin's rugby team training the next day, however, a nanny-free Charlotte quickly found herself on her own!
"I think I did too much in that first week, though, because on the Thursday [after the birth] I cooked sausage and mash and a blackberry and apple pie, cleaned the house and looked after the kids, and then sat down and thought, I need to calm my ass down!"
Ruby is adjusting well — and reacting intuitively — to her new role as a big sister. "When it's just me and the kids and I'm breastfeeding him, Ruby just seems to know that I can't really do much so she entertains herself until Gavin comes in the door and then she's pointing at her coat wanting to be taken outside," Charlotte said. "She seems to have taken to him…she's not jealous," Gavin added. From the sound of things, she might have ulterior motives! According to Gavin "she's after his dummy!" Agreed Charlotte,
"When Ruby sees him with it in she's definitely taking that out…We've only got one dummy at the moment so heaven forbid we lose it!"
There won't be any mad dash by Charlotte to shed the baby weight, for her two small children are her only focus at the moment. While she's "stopped buying stuff for the goodie drawer" Charlotte notes that as a breastfeeding mom, a restricted diet isn't healthy. "I have to eat lots at the moment…and Dexter's draining me, but I've never been worried about that stuff and it all works out in the end," she said. "We don't have a nanny and there's no way the kids are just going to sit and watch me on an exercise bike for an hour!"
There was a time during the pregnancy Gavin said he feared that Charlotte — who, after Ruby's birth, famously claimed to want eight children — was no longer in favor of having a big family. "The pain Charlotte was in at the end, I thought she might not want to have any more, but because of the happy hormones that come after the birth she wants loads again so it's happy days," he revealed. Charlotte says she's adjusted the numbers, but her goal remains intact. "Now it's four to six [kids]…Six maximum!" she exclaimed.
Source: OK!