Angie Harmon Isn't Counting the Calories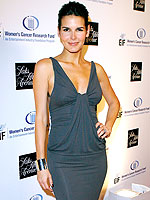 Jeff Vespa/WireImage
These days, Angie Harmon is all about the calories! With her worries of sibling rivalry among her three daughters put to rest, the actress is focusing all her attention on satisfying her hearty appetite. For the 36-year-old, keeping those hunger pains at bay means filling up on plenty of protein. "Right now, I'm literally eating every piece of meat that I see," she says. "I have a hamburger at lunch, and I make pot roast, anything with meat in it."
Putting those extra calories to good use, a tired Angie shares she is nursing her 8-week-old daughter Emery Hope. "I'm breastfeeding and I'm exhausted!" While nursing may account for much of the actress' weight loss, Angie admits that there are other factors working in her favor as well.
"I mean, genetically, I'm a skinny girl so it's not hard for me."
Angie and her husband Jason Sehorn are also parents to Finley Faith, 5, and Avery Grace, 3 ½. Angie will return to the small screen this spring with a guest spot on Samantha Who?.
Source: In Touch Weekly