Angela Bassett Grateful for the 'Ebb and Flow' of Career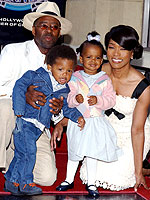 Axelle/Bauer-Griffin
For actors Angela Bassett and Courtney B. Vance — whose 3-year-old fraternal twins Slater Josiah and Bronwyn Golden were born in 2006, via surrogate — the line between work and family has been blurred. Not only does Courtney currently play Angela's husband on ER, their characters on the show are struggling with infertility. "So far it's working out," Angela says. "The ebb and flow of this life has worked out."
Noting that "when the kids came along, he finished Law & Order so he was home," Angela says the couple feels they "are blessed" by the flexibility afforded to them by virtue of their careers. Still, the hours can be brutal! Explains Angela,
"On Monday, I have to be there at 6:00 am which means I have to get up at five, but they're not up at 5:00 a.m. They're not up until 7:00 a.m. I have to do a 12 to a 16 hour day and when I get home at 8:00 p.m., they're asleep because they go to bed at 7:30. Then, on Fridays we might work until 3:00 in the morning so that's the hard part. I'm in the house with them — the husband and the children — and I haven't seen you all day or I haven't seen you for two days."
Things could always be worse, however. Actress Alex Kinsgston — who later this year will briefly reprise her role as ER's Dr. Elizabeth Corday — shared with Angela the schedule she kept while starring on the BBC1 drama Hope Springs. "She went to to do a TV show for five months and her child stayed [behind]," Alex recalled. "She came home every six weeks or once a month for a couple of days."
"I was like, 'Let's not even talk about it because I can't imagine.'"
Angela and Courtney were married in 1997.
Source: Black Voices