Kassius is My Little Sci-Fi Sidekick, Says Brian Austin Green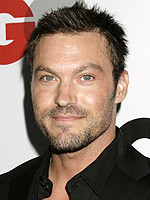 Francis Specker/Landov
Long gone is the lifestyle Brian Austin Green led during his days on the original 90210; For the actor, the late-night parties and the thrill of Hollywood have been replaced with the bedtime stories and trips to the park. As much as his son Kassius Lijah has shaped his father's priorities, Brian says having a child has equally motivated him to have a successful acting career. "I have a different reason to work now, having a 6-year-old, I'm not in it for the party and excitement," he says. "It's a job for me; I want to do the best I can for as long as I can — so I can enjoy life when I'm not working."
Although Brian's days are spent on set for his hit show Terminator: The Sarah Connor Chronicles, the 35-year-old shares that Kassius isn't complaining in the least! Instead, the rambunctious boy is able to investigate the Warner Brothers lot and spend time browsing the "store full of all the WB cartoons and shows and movies." However, while Kassius may enjoy running through the parks on location, Brian shares that his little sci-fi fan equally enjoys life on the set of his dad's show. A huge fan of Star Wars — the plot "fits into what he loves" — Kassius' biggest thrill is exploring the intricate underground maze. "He has fun when we're in the underground tunnel system; he loves those tunnels, it reminds him of Teenage Mutant Ninja Turtles," explains Brian.
A successful actor and a dedicated dad, Brian says he is simply doing "the best I can," while he still has the time — and Kassius' attention!
"He thinks I'm pretty cool. He'll find out otherwise eventually, but he's still young enough to think Dad's cool. He'll hate me in a couple years. I gotta get it all in while I can."
Kassius is Brian's son with actress Vanessa Marcil.
Source: AOL INSIDE