Julia Louis-Dreyfus Dreads Empty Nest Syndrome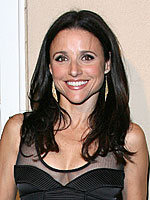 Jen Lowery/Startraks
With her older son of legal driving age, Julia Louis-Dreyfus knows that an empty nest looms large on the horizon. "It's coming," she concedes of 16-year-old Henry. "It's so thrilling to see your kids evolve into thoughtful, active, independent people…but what do you do without them?"
The quiet that will no doubt descend upon the home she shares with husband Brad Hall might give the 48-year-old actress time to reflect, however — although from the sound of things, there's plenty of that already! Julia tells WebMD magazine she looks back at her days as a young mom on the hit show Seinfeld and wonders whether she made the right decisions. "There were days when I thought my brain would blow up!" she admits.
"Women want to do everything, and it's hard to pull off. I brought both my kids to work with me [to the set] when they were little. It was great, but it also split my focus. I had a nursery set up so I could nurse them, then I'd run back to do a scene. Was that the best way? I'm not sure."
Like most working moms, Julia says she frequently felt as though one or the other — the kids or the job — was suffering. On the other hand, she notes "maybe it was good for these two little boys to see their mother working and having a fulfilling career."
"I am in no way disparaging women who stay at home …we beat ourselves up no matter what we choose. Inevitably, you make good and bad decisions. We all do. And you make mistakes. But you do your best."
In addition to Henry, Julia and Brad are parents to Charles, 11.
Source: WebMD