Sophie Ellis-Bextor Looks Forward to Kit's Homecoming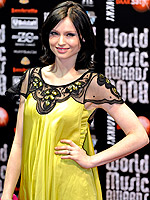 Eliot Press/Bauer Griffin
In the second installment of her pregnancy blog — written prior to welcoming her son last week — Sophie Ellis-Bextor writes that despite her sixth month protruding belly, the singer has yet to amend her beauty routine in the least. While she is determined to forego the maternity clothes that leave her looking like a "pregnant frump," Sophie feels equally passionate about the wonders of stretch marks. Explaining that she does follow "basic skin care" regimens, Sophie says that when it comes to her belly marks, it's simply a lost cause. "I don't believe that there is a cream in the land that can stop you getting stretch marks because I think they are hereditary."
Following the first 14 weeks of her pregnancy, when Sophie found her weight fluctuating between "a lady who wasn't pregnant to one who was," the 29-year-old shares her "bump is definitely in full swell now!" For the excited mama, the weight gain is simply another part of her pregnancy and for that, she couldn't be more thrilled. "I do have moments where I feel enormous, but generally I'm pretty good at accepting that some extra curves are a necessary part of pregnancy," she explains.
Despite a bout of moodiness that lasted "about a fortnight," leaving her with a feeling of "permanent road rage," Sophie shares that things have returned to normal, as the pregnancy seemed, at that point, to be progressing smoothly. Grateful to still be getting a full night's sleep, the songstress passes the time bonding with her baby's "reassuring" belly kicks — a sign to Sophie that he's "there and all is well!" Once the baby arrives, however, the self-proclaimed breastfeeding advocate is looking forward to bonding with her newborn during their special feeding times together, whether that be in the comfort of their own home or out and about on the town.
"When I had Sonny I didn't care where I was, feeding him was my main priority. I definitely don't feel the need to squirrel myself away in a private room. Women feel under enough pressure with a newborn baby without feeling that breastfeeding their baby is inappropriate. Having said that, I do understand it's not for everyone and it's more important to have a happy mother who isn't breastfeeding than an unhappy one who is finding it difficult."
Signing off by sharing she is "really enjoying being pregnant," Sophie goes on to say that while she is in "no hurry for it to be over," she is "so excited about meeting the new addition to our family. Coincidentally, the actress was admitted to the hospital after being diagnosed with pre-eclampsia and delivered her second son, Kit Valentine Jones, on February 7th, nine weeks early. "He is tiny, but adorable," gushes the proud mama, adding,
"He's doing really well and we hope to have him home around the time he was due, early April."
In addition to Kit, Sophie and her husband Richard Jones are also parents to Sonny, 4 ½.
Source: The Sun