Separation From Son Makes Lisa Kudrow Enjoy Job Less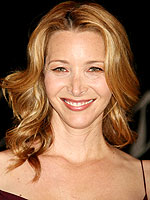 Robert Pitts /Landov
Although she was "very good" at playing a "mean" mom in her new film Hotel For Dogs, Lisa Kudrow is anything but in real life. The 45-year-old actress — mom to 10-year-old Julian Murray — admits that she might have felt a little mean during a recent absence from her son. Telling the Daily Mail she "definitely" feels guilty as a working mom, Lisa adds,
"When I was working away from home for a couple of months recently, it was really hard being separated from Julian. I love what I do, but that killed a big chunk of the enjoyment for me, even though we talked every day on the phone. Julian was fine, though, as his father was with him."
Lisa is quick to point out, however, that Julian is "old enough to realize" he wasn't being abandoned; "I was just working," she notes.
Julian is Lisa's son with husband Michel Stern. Hotel For Dogs is in theaters now.
Source: Daily Mail