Kirk Cameron: 'TV Really Isn't An Issue'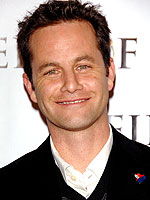 Stephen Shugerman/Getty
Kirk Cameron grew up on television and has continued to find success in his career since Growing Pains ended its run, but that doesn't mean that the entertainment world remains a focus. In fact, it's just the opposite. The star of the film Fireproof doesn't think that "TV has a whole lot to offer, unless it's something very specific that we plan on watching ahead of time."
He and his wife, actress Chelsea Noble, "rarely" have the television on in their house for kids Jack, 11, Isabella, 10, Anna, 9, Luke, 8, Olivia Rose, 7 ½ and James Thomas, 5 ½.
"We just love being together. We're in the back yard running around or doing all kinds of things. So TV really isn't an issue for us."
Kirk, 38, and Chelsea, 44, were married on July 21st, 1991 after meeting on the set of Growing Pains.
Source: Parents Television Council