Keri Russell Wants River to Stay Clear of Acting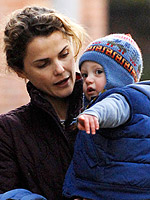 Ramey
It seems to be a common trend among actors that they do not want their children following in their footsteps and actress Keri Russell is no different. When asked recently if she wanted 20-month-old son River Russell to enter the entertainment field, Keri quickly replied, "Oh God, I hope not." She admits that he can "do whatever he wants when he grows up. I obviously have no control over that," but she hopes he doesn't follow her into acting for a simple reason.
"It's a very slippery slope for anyone, but especially for kid actors …  it's a weird business. People who are great are so great, but so many have a hard, hard time."
River is Keri's first child with husband Shane Deary. Keri, 32, lends her voice as the title character in the new animated film Wonder Woman, to be released on video March 3rd.
Source: The National Ledger