It's a B.O.Y. for M.I.A.!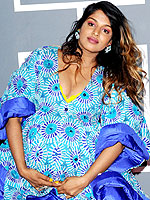 Axelle/Bauer-Griffin
It's a boy for M.I.A.! The "Paper Planes" songstress and fiancé Ben Brewer Bronfman welcomed their first child, a son, on Wednesday, February 11th.
Announcing the birth on her MySpace, M.I.A. shares that although she could have gone out after the Grammys last Sunday, she chose to go home, where her early stage labor began around 2 a.m. Her son was born Wednesday and is "healthy, fine, beautiful and the most amazing thing ever on this planet." She jokes that she and her baby boy are working on putting 2010 tour dates together, making mix tapes, and "figuring out a way to break out of the hospital."
M.I.A. says her son — which was a delivery surprise — has already added fuel to her fire as an artist.
"Having a baby is the most creative thing you can do. It makes you re-learn the world through a child's eyes."
The singer, 31, announced her pregnancy in October. On Sunday, February 8th, M.I.A. performed at the Grammys — on her due date! Now all eyes will be next Sunday's Academy Awards to see if she will have bounced back in time to perform "O Saya," her Oscar-nominated song from Slumdog Millionaire.
Source: M.I.A.