Ellen Barkin Doesn't Regret Taking Time Off for Motherhood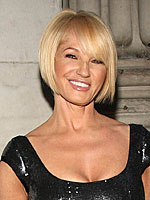 Evan Agostini/Getty
In her twenties she was "a real explorer" and in her thirties Ellen Barkin shifted the focus to her career; Marriage and children soon followed, however, and in the process "pushed everything else into a corner," the 54-year-old actress tells the March issue of Psychologies magazine. While Jack Daniel, 19 and Romy Marion, 16, were babies Ellen was essentially a full-time mom. "I'd do one movie a year, tops," she explains. "I wouldn't travel, I never had to take them out of school or leave them."
"That was my life and I have two fabulous children to show for it."
Still, the extended hiatus from acting did not come without a cost. "Did my work suffer? Of course it did — it always does," Ellen feels. "After slowing down for the kids, and bowing out for the marriage, being able to work a lot, on lots of different things is a pleasure and a privilege."
Now that she's kicking her career back into high gear Ellen says she won't overcompensate with the kids, however. "I think my generation is way over-involved as parents," she says. "We want to invade every corner of our kids' lives…It's not fair, it's not right." Instead, Ellen says she's the "most respectful mother you'll meet." That means always knocking before entering bedrooms, and that's not all. "If I saw a diary open, I wouldn't even close it -– I'd just walk out of the room," she adds.
"If they go out, I appreciate a call to know they're safe, but I don't ask who they're going with unless they want to tell me. It's not my business. We've forgotten something important: we don't own our children."
Jack and Romy are Ellen's children with ex-husband Gabriel Byrne.
Source: Psychologies