No Crying It Out For Valentina Pinault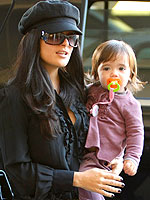 Flynet
Children grow up in the blink of an eye, and Salma Hayek is determined not to take one day for granted with her daughter Valentina Paloma, 16-months. During a Wednesday appearance on The Rachael Ray Show, the 42-year-old actress said the best piece of advice she's received as a first-time mom came from her own mom, Diana Jiménez, and that is to always be aware of just how quickly time passes.
"When you have a baby everybody tells you what to do and everybody contradicts each other and they drive you mad," Salma explains. "They say, 'Put her in the bassinet, stick her in there, let her cry'…Right?…Everybody is telling me this."
"But I wasn't doing it. She said to me, 'Always put your baby to sleep because one day you are going to wish you could do that, that you could hold her in your arms and put her to sleep. And do you know what? I put my baby to sleep every night. I love that moment, even though sometimes it takes hours. I do enjoy it very, very much."
Of course, Valentina doesn't stay asleep for long! Her nighttime woes have only continued and have in fact progressed to a point where Salma is "convinced" that Valentina is seeing ghosts. "Last night she woke up and her eyes were open, and she's looking at one specific point and she's going, 'No no no no, au revoir,' which means goodbye in French," Salma explains. "She's looking at someone, but there's no one there." Salma adds,
"I was so scared, and I'm like, 'Yes, au revoir, whoever you are, get out!' And then she started saying it in English. 'Bye bye, bye bye!' I guess she was trying in different languages to see what nationality this ghost was to go away. It was terrifying!"
Valentina is Salma's daughter with partner François-Henri Pinault.
Source: The Rachael Ray Show