Juanes and Wife Expecting Third Child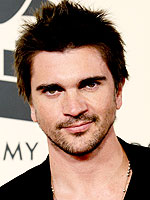 Gregg DeGuire/WireImage
Colombian singer Juanes and his wife Karen Martinez are expecting their third child, his rep tells People en Espanol. Following much pregnancy speculation, the 36-year-old's rep shares that the couple are looking forward to the new baby, who will join big sisters Luna, 5, and Paloma, 3 ½. "It's official. Karen, Juanes, Luna, and Paloma are happy."
In a separate statement to Latina.com, Juanes' spokesperson says,
"Karen and Juanes are extremely happy to be expecting their third child. Karen will be taking time off from all acting offers and Juanes plans to likewise cease touring and spend the next several months at home with his family while also beginning the early creative process on music for his next album."
According to Diario Las Americas, the singer — who just picked up a Grammy Sunday evening for Best Latin Pop Album — celebrated the news by proposing a toast among his friends. The source goes on to say that Juanes is thrilled with the upcoming addition to his family, whether it be a third daughter or his first son, reportedly due in September.
Source: People en Espanol, Diario Las Americas, Latina