Jennifer Meyer Maguire: Ruby Loves My Burgeoning Belly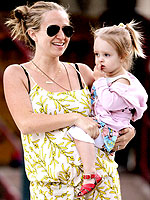 Most Wanted
Actor Tobey Maguire and his wife, jewelry designer Jennifer Meyer Maguire can check one thing off their to-do list before their second child arrives this spring! If the couple had any doubt that their 2-year-old daughter Ruby Sweetheart would resist another addition to the family, the tot has certainly proven them wrong, according to the pregnant mama. "She seems really excited now," reveals Jennifer, adding that Ruby is "loving it."
Fascinated with her mom's blossoming belly, the excited soon-to-be big sister is biding her time, enjoying "the belly and it growing and her baby dolls." While many know that the thrill of having a sibling can quickly wear off, Jennifer — who shares that "Ruby's not really jealous" — is confident that her daughter will embrace the new baby.
"She just loves being around people, and this will be like having another little playmate."
As for expanding their family even further, the 32-year-old, although unsure of whether the couple will have more children, is open to whatever comes her way. "I'm really excited about two, so we'll see what happens from there," she says.
Source: E!