Eric Dane, Rebecca Gayheart 'Working On' Having a Baby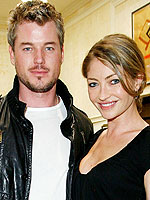 Donato Sardella/WireImage
McSteamy has babies on the brain! During a Wednesday appearance on The Ellen DeGeneres Show, actor Eric Dane revealed that he and wife Rebecca Gayheart are indeed hoping to become parents — soon! "We're working on that," the 36-year-old Grey's Anatomy star shared with a smile. From the sound of things, the couple are serious in their efforts.
"It's funny because you get the doctors involved, they call you and it's like, in eight days I have to put in some work. I know that for those four days I'll be very busy and I shouldn't schedule anything else."
When host Ellen DeGeneres scoffed at notion of Eric considering sex with his wife "tough," Eric agreed. "Hard work…Great if you can get it though."
Eric and Rebecca, 37, were married in 2004.
Source: The Ellen DeGeneres Show